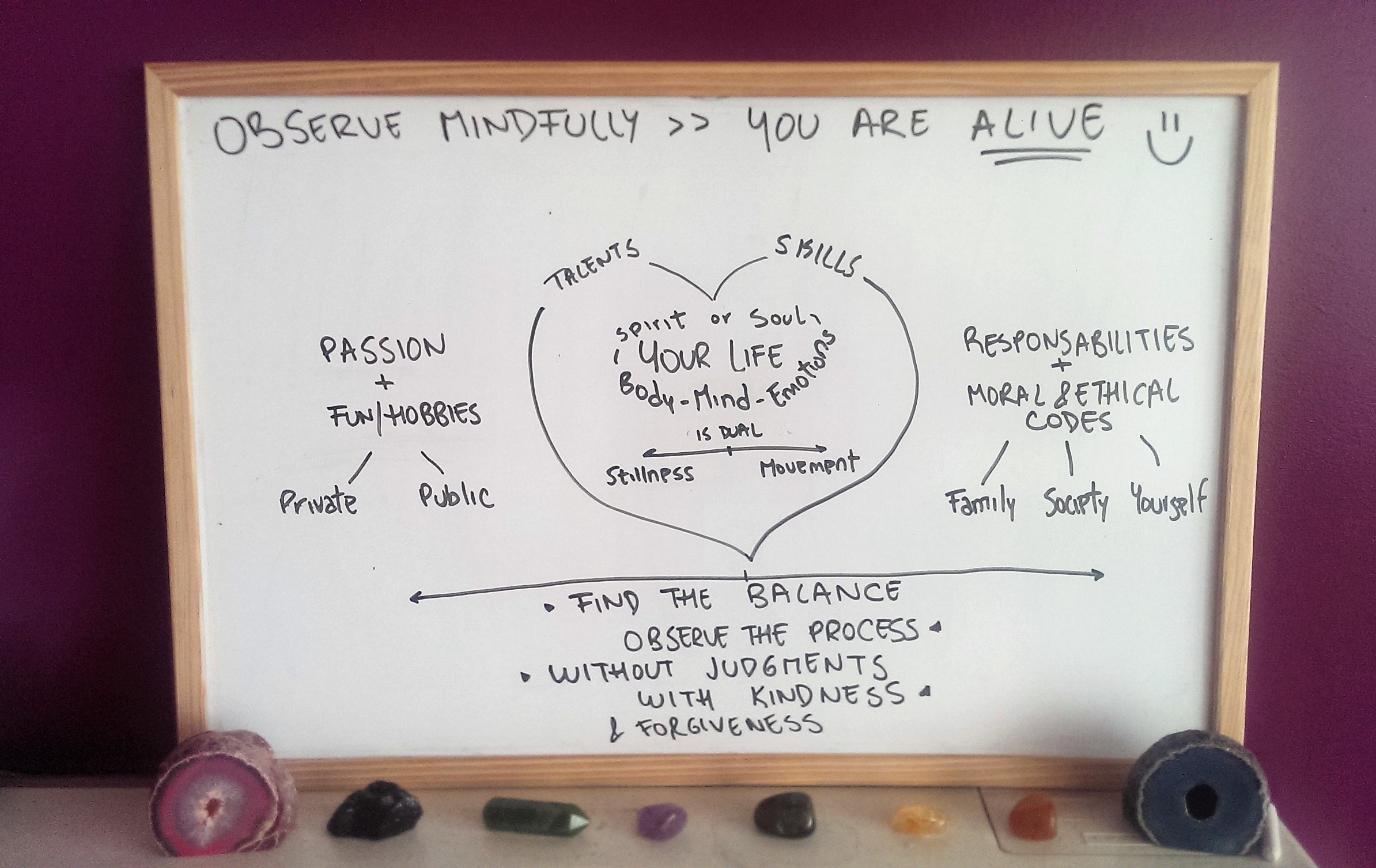 The Dualism of Life from a Yogi/Zen Perspective
Life is all we have… Sometimes life doesn't seem fair to us. Even though most of the time it is more than fair, we can't see it that way. It all depends on our belief system and our personal perceptions, right?
Today I'm writing about life as it was a mathematical thing to analyse. I usually write on my whiteboard to get some ideas flowing first… This post will explain my conclusion. I want to share it with you (stranger, friend and/or acquaintance).
I invite you to check my whiteboard, at the top of this post. I wrote this in the morning after breakfast and a little bit of meditation. If you know me, you already know I'm always trying to find the meaning or purpose of our life (as individuals and as a society) on this planet. This helps me to calm my mind and be 100% aware of what is happening within and around me, so I can achieve more mindfulness and wellness in my daily life. Also, hopefully, this could help others to start thinking about it 😉
Getting back to my whiteboard, notice how the words YOUR LIFE  is in the centre, then you can see your body (physical), mind, emotions and spirit or soul around it. All of them are a part of who you are. You probably knew that already… It's obvious. Well, everything in this chart is obvious, no big surprises, I promise! Be mindful though, my message is subtle but very special.
Below the centre, the phrase continues: YOUR LIFE IS DUAL. Stillness and Movement are basic examples of this dualism. (Exploring these 2 forces at the same time is easier when you do yoga asanas for example). Can we find balance in this dualism?
We also have Talents and Skills as gifts from the universe. We don't know why we have them or how we can make our way to develop them, but they exist, and they can be nourished or let them rot as you wish.
Our decisions and beliefs are used in the main 2 dualistic aspects of our life: PASSIONS & RESPONSIBILITIES. That's all we have in life. We use them (in different ways) to give purpose or meaning to our life. We choose what to believe and how to feel about them. We create thoughts, and if we turn them into actions, they become realities. In other words, we are creators of our reality using the colours that were given to us. This leads me to a couple of questions:
Can we detach from the results of our actions
and focus on experiencing life as it is without complaining so much?
Can we live enjoying all the bitter and sweet flavours of life?
It seems impossible to see detachment or bitter flavours in a positive way, doesn't it? I keep reflecting upon these questions. My conclusion is on the phrases you see at the top and at the bottom of the whiteboard:
OBSERVE MINDFULLY >> YOU ARE ALIVE
Don't miss a second of your life thinking about the past or the future without anchoring in the present. Why? because that's all you got. It's life itself running through your veins and breathing through your lungs at this very moment. From this perspective, everything becomes sacred or even divine (the words you use to describe it don't matter as much as the sensation this experience gives you). When you're fully aware of this, you open new channels of consciousness that you didn't even know existed. You start losing interest in certain things you love before, and you can also connect with less heavy states of consciousness if you take the next step and meditate for longer periods of time (but there's no hurry!).
Unfortunately, this is not a one-time job to do. This is our daily duty: exploring ourselves even further in order to assimilate our true purpose in life, as well as to conquer detachment and a balanced type of life. And remember: we are all in the same process, only at different levels of the same spiral ladder.
FIND THE BALANCE
OBSERVE THE PROCESS
WITHOUT JUDGMENTS
WITH KINDNESS
& FORGIVENESS
On my next post, I will write about my personal experience on the main dualistic aspects of life;
my passions, hobbies, responsibilities, moral and ethical codes (based on different philosophies and religions). I believe everyone can find its own way to *balance* using their belief system and will. To me, however, we need to avoid getting attached to these beliefs conserving our faith at the same time. Dualism is part of nature but I choose to believe that we can find the point in between, and finally feel at peace with any of the states of our existence.
Thanks for reading and trying to find the sound of the rain behind my written words and expressions of my analytical mind. 
PS. Feel free to leave a comment below and share your opinion about this simple but profound topic.
—
Lady Jerez
Yoga Instructor – Blogger
Marketer of projects I love
For private yoga classes and meditation sessions in Dublin, contact me via Facebook
https://www.facebook.com/ladyyogaflow/